A Foundation for the Future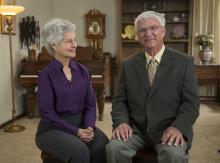 Fred and Nancy Kerr have always cared deeply about the future of their community and Kansas. So when they first heard the talk about starting a community foundation in their area, they were excited for an opportunity to put their ambition into action.
Both lifelong Kansans — Nancy is originally from Newton, and Fred is a third-generation farmer from Pratt County — the Kerrs didn't hesitate when they were approached by Sandi Fruit about helping establish the South Central Community Foundation (SCCF), which now serves seven counties.
"I was attracted to the idea of a community foundation because it can serve as an umbrella for the charities in the community, and it provides a way to have an impact at the local level," Nancy said.
"We really liked the idea as a way to keep resources in the communities in which they were earned," Fred added. "By keeping them in the communities, these resources could be used for the future benefit of people in these communities."
"That's the joy of a community foundation. Getting to know what people in the communities do locally for each other is very heartening."

- Nancy Kerr
Since its beginnings, the Kerrs have both served on the board and on various committees within the SCCF.
"I've always served on the grants committee. I just find it amazing — the number of charities, and all the people just trying to do something good in each of their local communities," Nancy said.
"Those people that really can't apply for large grants — because they would just get lost — can apply to a community foundation. Sometimes they need a rocking chair, and other times they need equipment for a nursing home. That's the joy of a community foundation. Getting to know what people in the communities do locally for each other is very heartening."
Those involved with the SCCF certainly have much to be joyful about. In nearly twenty years of operation, the foundation has provided grants that have had positive impacts on many local causes. Education is a primary concern of the SCCF, from afterschool programs and grants that help teachers supply their classrooms, to the Youth Making A Difference (YMAD) program, where two or three high school juniors and seniors from each of the seven counties work with the foundation to help decide which grants should be funded, and then hand out checks at an annual ceremony.
"Those students become very familiar with philanthropy at that young age, and that's bound to pay great benefits and influence those kids for the rest of their lives, fostering more philanthropic thinking," Fred said.
The SCCF was also a major part of the relief efforts after Greensburg, Kan., was devastated by an EF5 tornado in 2007. The disaster happened on a Friday evening, and by the following Monday morning, the SCCF had set up a site for donations that raised approximately $2 million over the period of a few weeks.
"This was really only possible because the community foundation was already in place, it had a good reputation, people could be assured their money would be handled as they intended, and many people did donate from across the nation," Fred said.
Being a part of many projects and causes that have benefitted from collaboration with the SCCF, the Kerrs feel very strongly about the important role community foundations play in facilitating local philanthropy.
"Using the community foundation, you can set up one endowment, but that endowment can benefit several different entities in your area — healthcare, education, churches — that you wish to help," Fred said.
For the Kerrs, whose two children both work and live in Kansas, establishing funds through a community foundation is not about what you are taking away from your family's estate, but the greater gain of giving back to one's community.
"So often, the young people in a family don't settle back into the community in which they were raised. Then, when there is a transfer of family resources, those resources are transferred out of the rural community and into the city where the kids live," Fred said.
"Certainly, when families do long-term planning, they want the best for their kids and they provide that as they should, but there's also the option of providing support for future generations in your own community — and that's where the community foundation comes in."
---