A Gift of Smiles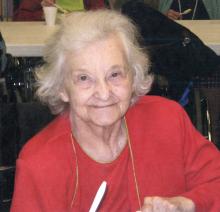 "Make sure the kids have good health care."
The idea is simple, but for Marga Ebel, a lifelong teacher who had spent her last years working with kids with special needs at Heartspring in Wichita, it was her largest concern.
"She had worked with disadvantaged and handicapped children, and obviously had a heart for the needs of children," said Keith Harder, former chair of the Hillsboro Community Foundation (HCF).
After retiring, Ebel moved to Hillsboro and spent the remainder of her life there. Delores Dalke, mayor of Hillsboro and HCF board member, formed a close relationship with Ebel. When Ebel expressed a desire to do something that would address the health needs of local children, Dalke introduced the community foundation as a way to help Ebel's dream become a reality.
Harder is just one of many people in the community who were surprised by the large gift left by Ebel — $360,000 to establish the Marga Ebel Health Fund — as she had led a modest life.
"I don't think anyone realized Marga had an estate as large as she had, especially based on her lifestyle and vocation," Harder said. "People were surprised by how deep her roots were."
"People begin to imagine possibilities that they hadn't thought of before. I think that's a lot of what the community foundation is about."

- Keith Harder
Ebel passed away in 2009, but because of her planning and work with the HCF, the Hillsboro community was given a gift with a lot of potential. In 2011, the HCF formed a committee of eight local people with knowledge about health needs of children in the area. Representatives from Marion County Head Start, Families and Communities Together (FACT), Parents as Teachers, the USD 410 school district, and others met over the course of several months to discuss possible ways to use Ebel's fund.
At the same time, the Kansas Health Foundation was promoting dental health as a primary need of children in the state. The majority of students in USD 410 had dental screenings each year, and by studying the results of those screenings, the committee determined that dental health was an issue that needed more attention.
Steve Noble, USD 410 superintendent and HCF board member, was on the planning committee. While he didn't personally know Ebel, her legacy as someone who cared deeply about providing resources for underprivileged children gave him confidence that the committee was headed in the right direction.
"This is an issue that we felt Marga would be proud to support," Noble said.
The program is still in its initial stages, with implementation beginning in the 2012-13 school year. Students are screened and then categorized into four groups depending on the level of care they need. Every child screened as a 3 or 4 — those who need urgent and significant care — are given priority for assistance. There are also financial qualifications: families have to be on the free/reduced lunch program and have no current medical card.
"The program is serving families that otherwise would not have the means to get these things taken care of," Noble said.
Hillsboro Dental Care happily partners with the school district and the HCF for the program. They set aside time to provide dental work for the children taking part in the program, and offer their services at a reduced rate to optimize the funds.
According to Noble, the program has demonstrated the willingness of the Hillsboro community to come together for a great cause.
"It's a big partnership between the foundation, the community, Hillsboro Dental Care, and the school district. I'd like to think that, if nothing else, it alerts people to the issue of dental care and how important it is to kids."
The endowment established by Ebel has resulted in $18,000 going to the dental program in its first year alone. Those at the HCF know that this is just the beginning of the good that will come from Ebel's gift.
"I'm always just amazed at how — if you plant the seed and nurture it — people begin to imagine possibilities that they hadn't thought of before," Harder said. "I think that's a lot of what the community foundation is about."
---